The versatile Aluminum patio roof with convertible effect with sandwich panels or multiwall panels.
Aluminum patio roof with convertible effect
Water tightness is guaranteed
The roof with retractable web panels or sandwich panels is waterproof. The gutter positioned in the first panel drains the water, which then flows through the profiles on both sides to connect with the drains of the posts. So waterproofing under the pergola with sliding roof is guaranteed. Garden furniture, cushions, decorative items, etc. remain dry. You can walk away with peace of mind.
Sandwich panels
If you choose a roof made of sandwich panels (opaque), you will benefit from shade and sound insulation. For more brightness, the panels of the pergola with sliding roof contract and allow the light to penetrate. The rooms adjacent to an attached sliding roof pergola thus remain brighter.
Time resistant structure
With a sloping structure supporting 32 mm thick panels, the aluminum pergola is robust. The system by which the plates are moved via a belt is equally stable. This type of roof is easily controlled electrically. And nothing prevents you from closing the pergola at the front with latches suitable for our aluminum pergolas. So you are also protected from the cool breeze of early autumn or from prying eyes.
With a pergola with sliding roof, you no longer have to move your garden furniture or sun lounger to enjoy the shade or full sun! How about a rain shower? Stay comfortably seated, do not move and simply extend the sliding roof of the pergola. This pergola inclined from 5 to 10 ° is really very practical because of its versatility.
It can serve equally well as a multi-purpose canopy as well as a canopy for a large terrace. The sliding roof of a pergola offers a modularity that you will never achieve with a porch. For example, you can move the panels to enjoy the starry sky on a summer night.
As with all our products, the design of the retractable polytop roof is designed for easy assembly and easy access to the various parts when interventions are required.
Dimensions of the patio roof with convertible effect:
Projection: max. 4.45 m (3.69 m for polycarbonate)
Width:4m per module
Height:3m max.
Plate thickness:32mm
Sandwich panel colors:White (on both sides), anthracite and white on the inside or other colors on request.
Kit for LED lighting optional (1 or 3 sides)
Retractable polytop pergola , Aluminum patio roof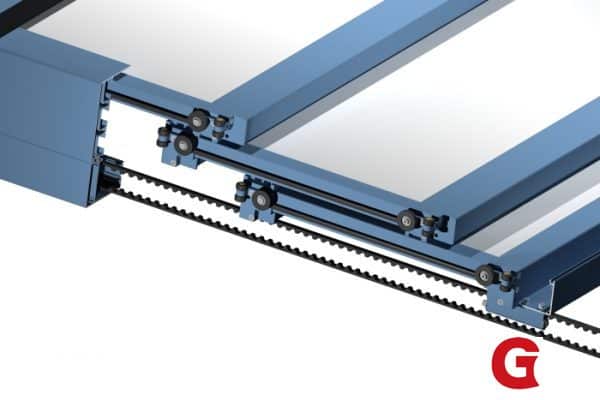 The Aluminum patio roof with glass arrives in 2023

The "grand design" trend in home additions is becoming increasingly popular in the Emirates. To complement the aesthetics of interior spaces, aluminum glass roofs are gaining popularity in cities such as Abu Dhabi, Dubai, Ajman, Fujairah, Ras Cayman and Sharjah. Because roof surfaces are less structured, it is critical to determine the appropriate structural support for the building to resist vertical and lateral forces.

The curved aluminum glass ceiling of your home creates a wonderful sense of comfort. Dramatic architecture meets sensible energy efficiency that you will enjoy for decades. Aluminum is a very durable metal that lasts longer than wood or PVC and can withstand a wide variety of weather conditions.

Metallbau Goerres uses the latest design techniques in the popular aluminum glass roofing system and offers sleek, modern profiles to create a strong yet lightweight system that can be adapted to almost any roof design. We offer the largest selection of glass roofs you can order, from tall roofs to triangular roofs with unobstructed partitions up to 20 feet. Our experts will work with you to find the right solution for your home.